Come Together Musicians, SuckAPunch, Plays The Key Club
"Hanging out in Hollywood near Halloween is fun because you can't tell if people are dressed up for the 31st of October or if they just always look that way. It's this kind of weirdness that I love about this town."
Last night my wife and I went to go see "SuckAPunch" at the key club. My friend and musician Simon had been telling us about his new group for the past few weeks leading up to his show and wanted to make sure that we were coming. He invited us out to the Rainbow Bar & Grill afterwards. Twist my arm! You don't have to ask me twice to go see a hard rocking band, on the famous Sunset Strip, support a friend and hang out at one of coolest, historic rock restaurants out there. Sign me up, I told him we'd be there.
Simon, along with his band mates, contributed two songs to my second feature film, Come Together. City's Burning Love can be heard when Angelina gets out of the hot tub, in her bikini, right in front of Jeremy. Lost Souls of Hollywood can be heard when Seth and Robert, also musicians, are in the garage talking about writing a song together.
Last week, Simon and I spoke on the phone. He asked me to stop by to say hello. "I've saved you a spot in the parking lot. Yours is the one with the vacuum cleaner in it." I met him and his new band in a rehearsal studio in Burbank. SuckAPunch played Lost Souls of Hollywood for me. Wow, I was blown away to have a private performance for a song that is heard on the soundtrack for my film. In addition to this, I was honored that the band members were wearing Come Together shirts! I think it's so important to support each other's projects. Some of my best friends are also creative people, trying to make it big. It's necessary and almost therapeutic how I support them and they return the favor.
As anyone who's tried to do make a feature film with limited resources or start a rock and roll band knows, it's tough out there. You do make progress but sometimes you get knocked down. Simon told me why he named his new band SuckAPunch. He said something like; "There are times in life when you just have to suck it up. You take a hit and keep going." I totally agree with this philosophy. Don't ever give up.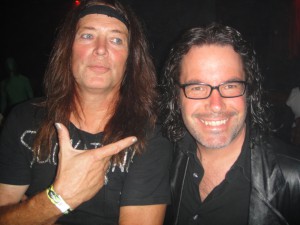 Last night Simon came up to me at the bar in the Key Club. Before we even exchanged greetings, he snapped a photo of the both of us. We took a few more after that, said hello and then, just before the show Simon asked if we could take a few photos of him and the band up on stage. "Sure" I said, I'd be happy to do. I love shooting and will take any excuse to practice one of my passions.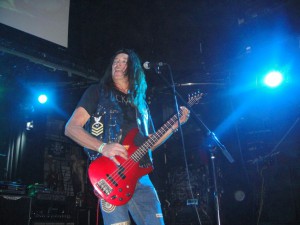 I got some great photos, a few of which appear here. I also shot a little video while he played Lost Souls. After the show, I told Simon that I felt like a celebrity when he introduced "Lost Souls" by mentioning my name and the film's title, Come Together. To this day, I'm very thankful that he allowed us to use his song on our film's soundtrack. I personally love this song and know it very well. In fact, I even mentioned to him that I missed hearing a line in their song; "It's Check Out Time." He appreciated that I had memorized the lyrics and assured me that they'll sing it the next time they play it.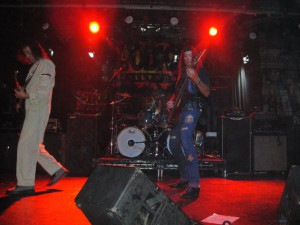 The evening ended with drinks and a bite to eat at The Rainbow Bar & Grill. One of the last things Simon said to me was very supportive; "I know that you're going places." I know that Simon will continue to make great music with his band and I'm determined to make more feature films. I see us continuing to support each other and I think that's what friendship is all about. After all, no one makes it alone; everything you do comes back to you. So, encourage your friends, and keep up with them as you chase your dreams.
By Charles Unger October 31, 2011

Share on Facebook

Tweet This Post